Craftspeople are likely to be familiar with Creative Fabrica mainly as a location from where they may purchase digital assets such as photos, typefaces, and machines embroidery patterns.
Amsterdam, the Netherlands is the birthplace of Creative Fabrica, which now houses more than three million digital items from more than five thousand different designers.
In-house designers at Creative Fabrica are responsible for the designs that may be seen in the Crafts area. The Graphics area features designs made by independent graphic designers working on their own time.
You have a wide variety of options available to you if you work in the print-on-demand industry, both in terms of kinds of products and designs.
You may also search the site for certain ideas by using the search bar.
Creative Fabrica provides pre-designed interiors for your books if you are involved in the Kindle Direct Publishing (also known as KDP) industry.
The vast majority of the photos that you buy will be made accessible to you in a variety of file formats, some of which include the EPS format, JPEG, PNG, and AI.
It is a terrific alternative in terms of both budget and quality, and it enables you to adjust or update the design by making use of a number of design tools.
After you have placed a purchase, the files will be downloaded to your computer in the form of a zip file, which you can then store to your device.
Your Creative Fabrica account is where any and all files that you download are kept.
You will always have the option to recover them and download the files again.
You may have complete faith in Creative Fabrica since it is a reliable and trustworthy website.
What exactly does "print-on-demand" mean?
Print-on-Demand is a type of online business in which you design a digital print, then upload it onto a physical object (such as mugs, T-shirts, or books), and then sell it through various online marketplaces such as Etsy, Merch by Amazon, Redbubble, and KDP or Kindle Direct Publishing. This type of online business is also known as print-on-demand.
When a buyer purchases an item from the platform or marketplace that has your brand, the platform or marketplace will handle the logistics of shipping and printing, and you will get a royalty payment.
Because the majority of marketplaces and platforms don't charge any money to join up or to submit your concept for a product to the market, it's a business approach that you can start for no cost, and it's one that you should consider using.
After you have a grasp of the fundamentals of what Creative Fabrica is and what printing on demand is, it is time to analyze the most significant components that make up Creative Fabrica. This can be done after you have an understanding of the principles of both concepts.
Is there no cost to use Creative Fabrica? What is the price tag on it?
There is a fee associated with using the Creative Fabrica service; this is correct.
In order to receive access to the creative items you'll need, you will need to sign up for a membership plan.
On the other hand, they do have a freebies area in which customers may get free products on a daily basis.
It is not necessary to acquire a yearly membership in order to access this content.
The following are some of the free things that are available to you:
Free typefaces
Free SVGs
Free images
Free embroidery
Classes available at no cost. The giveaway items are accessible at any time throughout the day. You only need to sign up, and then you can get your hands on these products.
The fact that all of this free software comes with a commercial license is the distinguishing feature that sets it apart from other free software. This enables you to use them for business reasons, such as designing designs that you sell or creating blogs that generate revenue, among other things.
It is important to purchase an annual membership if you desire anything in addition to the freebies that are provided.
The fact that Creative Fabrica has four distinct price plans, three of which are tailored to certain product categories, is the aspect of the company that I like the most.
You are possible to purchase an account for the item that you are seeking for if you do not intend to purchase any other products from the seller.
The following is a list of price choices that are provided by Creative Fabrica:

CRAFTS
This plan may be purchased for a total of $12 per three months. You will have access to the following benefits thanks to this plan:
51,068 cut files.
Commercial license.
Participation in the craft club.
FONTS
This plan has a monthly cost of $19. You will have access to the following benefits thanks to this plan:
74,438 typefaces.
Fonts licensed for use in commercial settings.
Access to brand-new typefaces that are always being introduced.
GRAPHICS
This plan has a monthly cost of $19. You will have access to the following benefits thanks to this plan:
3,672,221 graphic designs.
A license for commercial use is available for all graphic designs.
Get access to brand new visuals that are updated every day.
ALL ACCESS
This plan has a monthly fee of $29 to pay. You will have access to everything that is included in the CRAFTS, FONTS, and GRAPHICS plans when you subscribe to this plan, and in addition, you will have access to 22,590 embroidery patterns.
Because it includes everything that Creative Fabrica has to offer, the "ALL ACCESS" plan is without a doubt the most popular option that they have to offer. It goes without saying that this is the plan that most customers choose.
Products Made from Creative Fabrica
Customers have access to a wide variety of goods and instruments thanks to Creative Fabrica's offerings.
Let's briefly go through each available choice.
Fonts
It's OK, there is no need to provide an introduction.
Web designers and graphic designers are in need of fonts that are innovative since they give an entanglement between typeface and design, which is something that is required.
In addition, because of how important they are, they may either attract or turn off potential clients.
Fonts are a significant investment for businesses since they often contribute to the creation of a positive image for their brand.
The fact that Creative Fabrica has a library of more than seventy-four thousand typefaces, to which new fonts are often added, may make the experience of making anything pleasurable.
Graphics
Graphics includes not only patterns for quilting, knitting, sewing, and crocheting but also backdrop designs, logos, pictures coloring books, educational materials, and a great many other things.
Because of their expertise with the aforementioned programs as well as their creative ideas, designers are able to quickly produce designs that are both original and engaging.
It's a well-known fact that not everyone has artistic talent.
The ability to think creatively does not come easily to most people.
Finding a designer that is willing to work for you might be an expensive endeavor.
In addition, coming up with an entirely new idea from beginning is a very time-consuming procedure for designers to go through.
The graphic designs produced by Creative Fabrica You will be able to conquer these challenges with the assistance of Creative Fabrica, which will provide you with ready-to-use graphics and designs that you can put to use in your business.
Crafts
In this case, there is no need for an introduction.
Projects for children, including Halloween and Christmas decorations, as well as crafts for spring, autumn, and Easter… There are a variety of scenarios in which you will want drawings that you can simply print off, then cut out and use. Within the Crafts area, you will have access to high-quality cut files that are compatible with cutting machines like as the Silhouette, Cricut, and others. These machines are used to cut dies in a variety of materials.
Embroidery
This area is the one you should look into purchasing products from if you like knitting or embroidering and want to make patterns that are both exquisite and already made.
There are numerous sub-categories, which means that you will be able to locate what you are searching for in a very short amount of time.
Every single design may be stitched out using an embroidery machine.
Classes
This is the spot where you may participate in online lessons that are presented by the community of creatives and makers linked to Creative Fabrica.
This indicates that if you are interested in becoming an expert in a certain ability, you may ask the professionals who are spread around the globe for guidance, and they will teach you all there is to know about the subject.
It is important to keep in mind that users who purchase the "ALL ACCESS" plan are eligible to get free lessons.
There are a variety of lessons that may be taken, some of which include knitting, crocheting, macramé, painting, paper crafts, and the use of a Cricut Graphic Design clay machine, amongst others.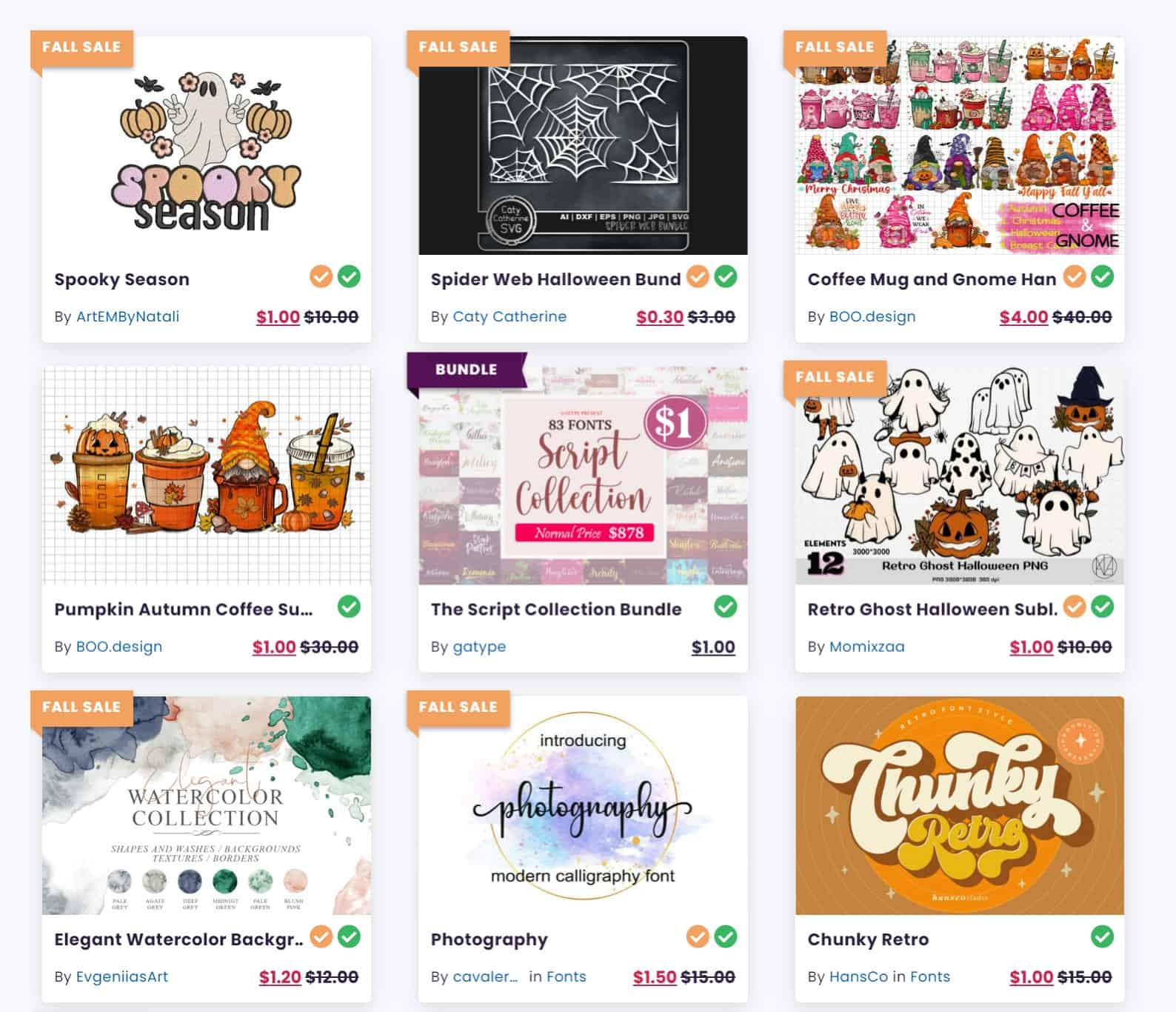 Tools
You have access to a wide selection of tools when you use Creative Fabrica.
What services they offer:
FontCloud
It is a tool for managing fonts online, and it enables you to search for, add, and explore online fonts very quickly.
You will have no trouble finding the appropriate font for your next important project with the assistance of our tool.
ShapeCloud
Words may be created with the use of the art-making program ShapeCloud.
You only need to enter the text, choose the shape, and play about with the parameters until you find a combination that you like to see your concept materialize.
Here's an example style:
Webfont Generator – With the help of this program, you'll be able to transform your regular TTF or OTF fonts into usable webfonts.
Simply upload an OTF font file, then click the "Convert" button at the bottom of the page.
This is the end!
Download the webfont at this time.
The Craft Club  – is where you may receive access to hundreds of designs to use for your crafts, and it's where you can become a member. Get access to personal designers as well as tools for creating individualized designs, in addition to a great deal of other benefits.
The craftsmanship
The Artistry – A site that features a wide variety of detailed how-to guides and instructional videos.
POD
Assets that are printed as they are needed are often referred to as POD.
There is a wide selection of designs to choose from, and if you buy a full POD license, you may keep using it indefinitely.
Bundles
Bundles are bundles!
You may, for example, buy a huge bundle of fonts or SVG files, bundles of craft, and many more of these types of collections.
Who Should Make Use of the Creative Fabrica Platform?
Creative Fabrica is a resource for designers, students, crafters, authors, and educators, amongst other people, who need access to a range of creative materials at prices that are cheap.
Today, in addition to being able to make purchases via Creative Fabrica, users also have the ability to sell their own work on the platform or marketplace.
You may, for instance, sell your services via the site if you are excellent in typeface design or graphic design and are an expert in any of these fields.
The fact that you, as an online seller, have total control over the pricing, in addition to the potential of selling identical things on other marketplaces, is something that sets you apart from other sellers.
Buy Creative Fabrica cheap from Toolsurf
Get Creative fabrica group buy tool starting just $5.99 per month
Conclusion
Although Creative Fabrica is a terrific platform, just like any other platform, you could run across consumers who are dissatisfied with the service they get.
A significant number of clients have expressed dissatisfaction with the quality of assistance they received from the customer support staff, while others have voiced annoyance at the fact that their credit card was charged even after they had canceled their subscriptions, among other issues.
This does take place.
Even well-known companies like Envato or Flaticon, amongst others, have run into issues with their services.
There will always be a certain percentage of a company's overall clientele that is dissatisfied with the service they get.
Now that those miserable people are out of the way, Creative Fabrica is a wonderful marketplace for those who like doing things yourself and creative hobbies.
They provide a trial that lasts for one month and just costs one dollar.
You may also join up for nothing and have access to free samples before deciding whether or not to pay for an annual membership. This gives you the opportunity to evaluate the service before making a financial commitment.