Many individuals in the advertising and marketing world are interested in AI copywriting. The basic premise is that a computer program will construct the text for you. It's not as simple as feeding information into a machine and getting back a finished piece of writing. Many more nuanced considerations come into play. Simply put, "artificial intelligence copywriting" is merely a fancy term for "computer writing," but this is no ordinary computer. After reading hundreds of articles, the machine has been taught how to write effectively. We've all heard of machines writing novels, but Peppertype.ai is extending the same concept of AI copywriting to the business world. Those who operate blogs or are advertising a website or company will welcome this development.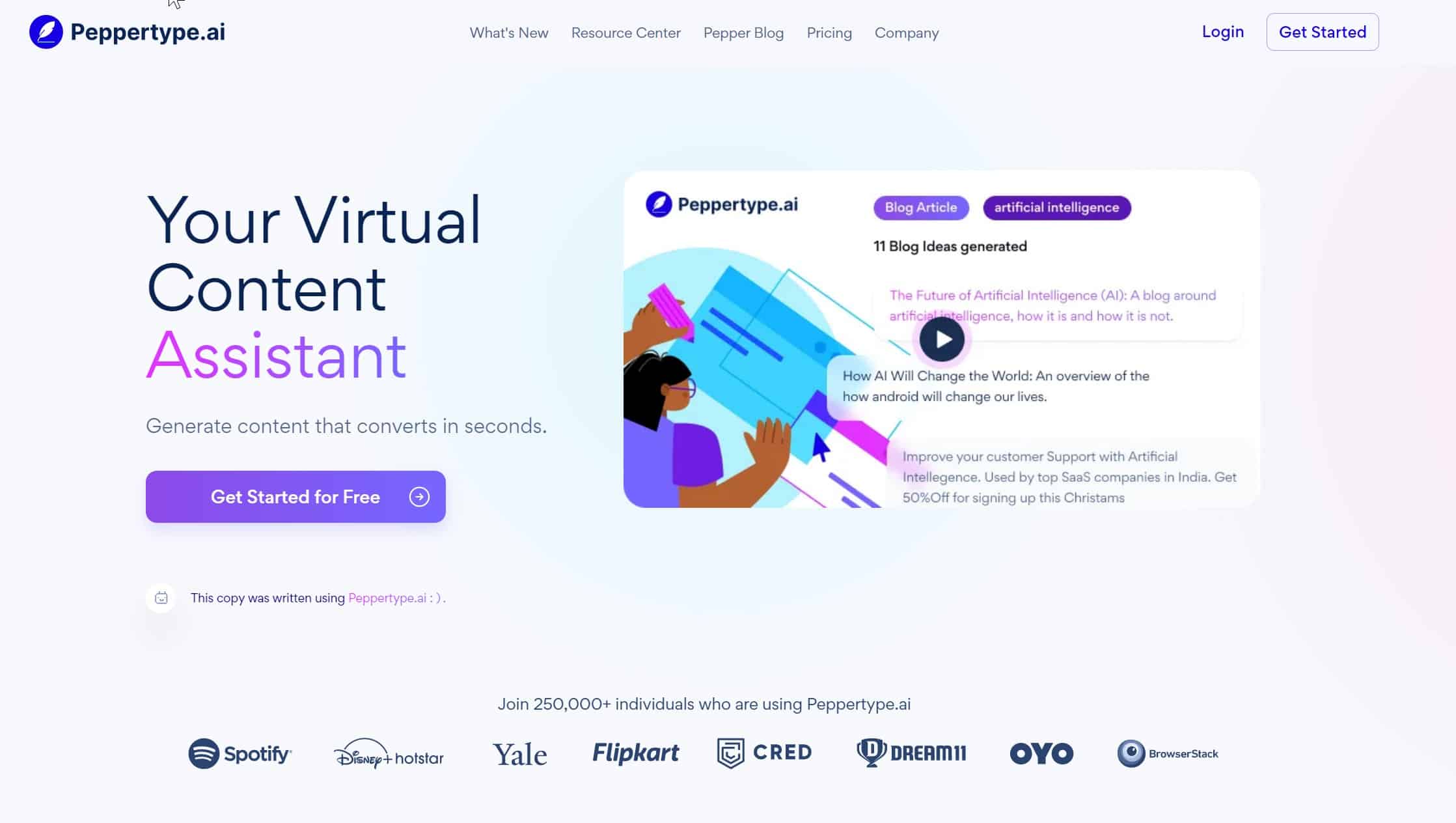 Peppertype AI: What Is It?
Peppertype is an AI-powered copywriting tool that is ideal for producing high-quality material, is simple to use, and can be tested without risk.
It utilizes both human and artificial intelligence to speed up the process of writing high-quality content. It achieves this by enabling you to save several copy styles, such as simple, confident, or inspirational, to your own style library for quick access when you need them.
You can use this already-written material as soon as you choose a format and a topic that work for you.
Machine learning and AI will write your content in a matter of seconds.
Choose a subject of interest, click, and start writing to produce material that is both interesting and convincing. The underlying AI has been trained with over 100K+ pieces of content in order to predict what would resonate most strongly with your target demographic.
Advantages of Using PepperType's Artificial Intelligence
The time spent composing information is reduced.
Top-notch writing is produced in a flash. It has a fantastic AI-based content system.
You should just say the name of the company and give a short summary of the information.
It offers an uncluttered interface and provides access to the team's data.
Website material, including headlines, meta descriptions, product descriptions, and more, may be generated automatically.
The control panel is where you can store any backups of content you have made.
Improving with consistent updates
Besides text, Peppertype AI may also be used to compose video and audio podcasts.
As a client, you'll have access to excellent service.
Peppertype.ai: How to Use It?
Peppertype.ai is a website that uses artificial intelligence and machine learning to automatically produce and extend data and sentences. Social media postings, blog articles, news stories, product reviews, and more may all be generated with its help. New projects may be made, information can be entered, or premade plans can be used as jumping-off points.

Just what does the Peppertype A.I. program have to offer?
There is a wide variety of capabilities in Peppertype. It has a wide range of potential applications, including but not limited to the generation of product reviews, the enhancement of blog posts, the development of articles for your website, the production of social media postings, the development of content for your website, and much more. Those in business, as well as bloggers, writers, content providers, SM managers, MMs, MMs, and SMMs may all benefit from using Peppertype. Using Peppertype, you may quickly produce a large number of articles. Even how-to guides may be made with its help. Possibilities might go on forever.
Peppertype.ai, a service that uses AI to write content, is now offering a lifetime discount on the app via the website appsumo.io. If you need high-quality copywriting done quickly and efficiently, Peppertype.ai is the place to go. This service is for you if you need high-quality text to increase your site's conversion rates. Discounts are available for the long term, and the rates are reasonable overall.
The benefits and drawbacks of using Peppertype.ai
Peppertype.ai is a software as a service (SaaS) program that, with only a few mouse clicks, can produce a massive volume of fresh, original material. It's simple to use and generates a wealth of original material in a matter of minutes. Writing about products, increasing blog titles, making social media postings, and many other similar tasks all benefit greatly from this. It's a terrific option for coming up with original material for your blog. It does have certain drawbacks, however. The inability to make changes to previously published material is one of the main drawbacks. To make changes, copy the text and paste it into a word processor or other text editing program. Although this isn't a problem when working on a desktop computer, it may be a nuisance when using a mobile device; thus, a direct editing option would be appreciated. Aside from that, it's a fantastic method for developing original articles for your website.
Also read: Wordhero Group Buy – Wordhero At Low Cost With Group Buy from Toolsurf
A tutorial on how to utilize the AI writing tool Peppertype.ai.
Let's take a look at how to generate material with Peppertype.ai, an artificial intelligence-powered content generation platform , and how to use it to promote your business.
Select the Type of Content to Begin
Let's assume I chose to ramp up my SEO for Peppertype.ai in order to attract more organic signups. From my perspective, the first option is to start a blog about a certain topic, such as copywriting, content marketing, etc.
Unfortunately, I just don't have the time to sit down and think of 100 blog post ideas. For this reason, I'm going to use "Blog Ideas" as my content type.
Second, type in your product's name and description.
Name your undertaking. This time around, I'm just going to use my product name. Type in an easy-to-understand explanation of your product's features.
You should use the simplest possible terms to explain your brand while entering these descriptions for the best results. Always keep in mind the five-year-old rule while writing a description.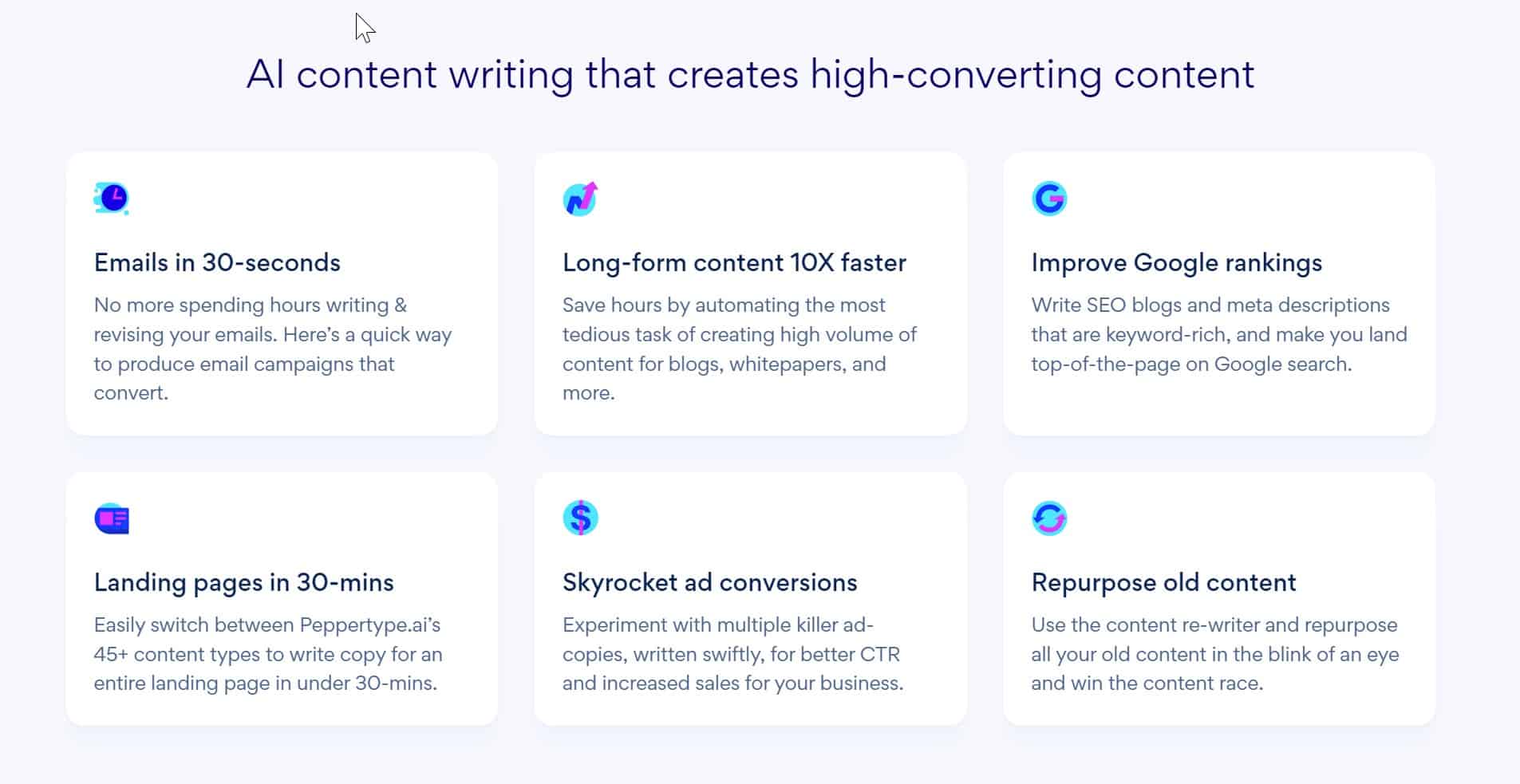 After you've finished, hit the "Create Blog Ideas" button, and within seconds you'll get a list of suggestions, prioritized according to how long they are and how excellent they are (from best to good; there are no terrible suggestions).
Third, check, tweak, and save the output.
The findings are public at this time. A total of 13 outputs in under 10 seconds!
No one is faultless. You may make changes to the outcomes by clicking on the card. (if necessary).
There is a save option to the left of each card, so you can easily save the one you want under your product's name.
You may also make changes to the copied text by double-clicking in the area provided.
Fourth: Examine Your Backups
In order to see the Peppertype copies you have saved, go to Blog Ideas and click Saved.
Fifth, save the data as a CSV file (for use with the Growth Plan feature only).
You may create a CSV file containing all of your results, or only the ones you've saved.
Sixth, add more or select a different type of content to work with.
Click the link below to add it to your list of potential blog topics. If you skip to the next content type, its description will be pre-populated. To get started, just press the "New" button!
Seventh: Easily Access All Your Backups
You may access your saved copies by clicking Saved Copies in the main menu, where they will be organized by product and content type.
Cost of Peppertype AI
Monthly charges as low as $25
First-year billing: $25 per month for the Basic Plan (one user seat).
Second, a team plan for five users is $165 per month, charged annually.
The monthly fee schedule is as follows: 1. Starter plan (1 user seat)—$35 per month, payable on a monthly basis
The second level is the team plan, with five users for $199 per month. Get in touch with us if you're interested in our enterprise pricing.
Buy Peppertype ai group buy cheap from Toolsurf starting just $1 per day trial.
Conclusion:
In sum, Peppertype.ai provides affordable copywriting assistance from AI.
Use Peppertype.ai if you need professional copywriting done cheaply and you want your company to stand out from the crowd. Peppertype is a copywriting service that uses AI to write content at low cost. Peppertype is an AI tool that can help you compose everything from emails and blog posts to online content and more. With a lifetime guarantee, it's hard to pass up.
Frequently asked questions
Peppertype.ai: What is it?
Peppertype.ai is a platform powered by AI that helps writers and editors come up with new ideas for their work instantly.
It features a deep-learning-implemented autoregressive language model.
Using the GPT-3 paradigm, this AI-assisted solution could help businesses scale up their content strategy, production, and distribution.
What's the deal with Peppertype.ai?
Peppertype.ai is a platform for automating content creation that is powered by AI. It gives companies both rough ideas and finished pieces of writing.
It uses machine learning to figure out a company's target customers, brand voice, and how it works internally.
It then uses that information to come up with brand-new content that fits with the brand's established voice.
Is it guaranteed that the produced content won't include any instances of plagiarism?
Based on your specifications, Peppertype.ai will produce 100% unique and plagiarism-free text.
Can I make money from the created copy?
The work you create on Peppertype is fully yours to keep.
Do they have coupons I can use?
Yes, all current pricing options can be found on the Peppertype.ai pricing page.
When do I get to terminate my membership?
The subscription may be terminated at any moment. There are no lock-in specials available. Email [email protected] if you have any questions about returns.
Peppertype.ai: Does it cost anything to use it?
Peppertype.ai does not provide an AI writing helper for free in perpetuity. The basic plan is free, and you may use it to create articles up to 10,000 words.
After your trial period ends, you'll need to pay US$25 a month (or $249 per year) to continue using the service. In addition, there are group price tiers available. In order to try out the service, we are providing you with a free trial of 10,000 words.
Peppertype.ai mixes the complexities of machine learning with the efficacy of artificial intelligence.
It makes it easier to make great content that is both unique and in line with the tone you want to set.
Peppertype.ai gives writers a number of pre-built styles to choose from, such as confident, simple, and inspiring.
It's easy to get started utilizing the tool to create unique content; all you have to do is choose a subject idea.
Can we trust Peppertype.ai?
Yes, Peppertype.ai is a real copywriting tool that gives you a well-developed writing assistant that uses a lot of resources and well-organized information to help you come up with unique content.