Are you constantly searching for fresh, new ideas that drive the sales up for your business?
Where do you get inspiration from to create ad campaigns that resonate with your audience?
How do you discover the most effective marketing campaigns that work at a global level?
Do you use spy tools to find successful ads? If your answer is "yes", BigSpy will give you a unique opportunity to get inspired by tracking the most effective ads on various social media channels! Let me show you how clever BigSpy can be.
We are going to start with one of the biggest ad spying platforms that let you track Facebook Ads as well as Instagram Ads – it's called BigSpy! This powerful app allows you to watch over more than 1 million ads in more than 40 countries around the world every day. What makes this tool so special is a huge database of 160 mln+ ads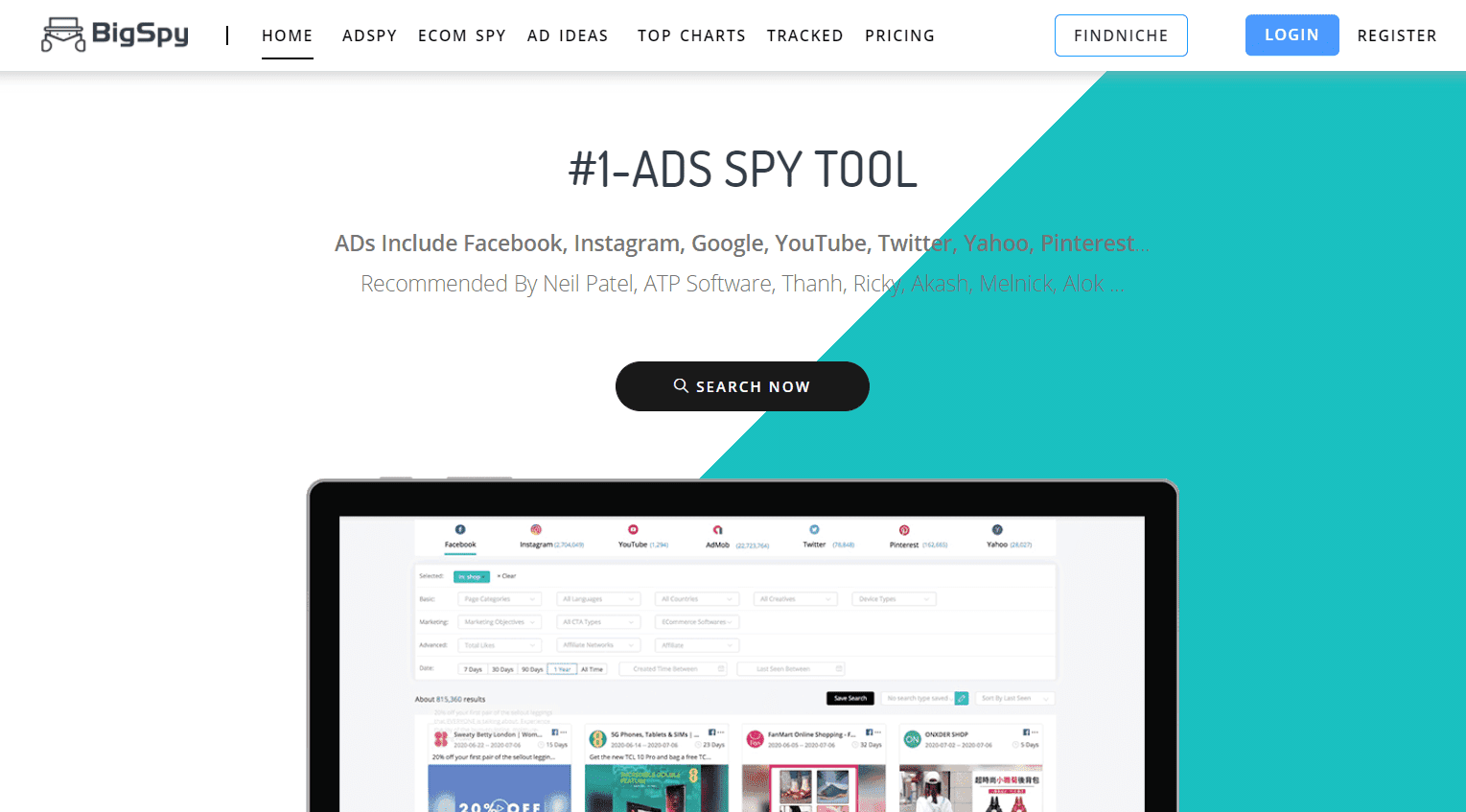 With BigSpy, advertising and marketing campaigns are now just one click away!
BigSpy can provide all of this information in a simple manner. Here's how it works: You have an idea that can be made into an ad campaign. All you have to do is select a social network, where this idea could be popular. Then add some keywords and categories so BigSpy will know which ads to fetch. Within seconds your campaign will be running with winning ideas from all around the world!
BigSpy can offer you a large database of social media ads that are proven winners !
After BigSpy grabs information from over 40 countries, it adds this info into its database and saves them for future use in campaigns. This tool works very much like every other spyware or tracking software in existence, but what makes BigSpy different is that it does not "steal" data like others do. You only get to see the list of the best-performing advertisements online. It's as simple as that! You don't steal anything. There is absolutely no reason why anyone would have any issue seeing these ad campaigns because they are already out there, being shared and used.
BigSpy is an ad intelligence tool that gives you the power to create profitable ad campaigns using all of the knowledge in its database!
All you have to do is follow 3 simple steps: choose a niche, add keywords or categories and BigSpy will provide you with lists of well-performing ad campaigns for your chosen niche from around the world. You can then use some of these ideas in your own future campaigns. This saves you a lot of time because it does most of the thinking for you!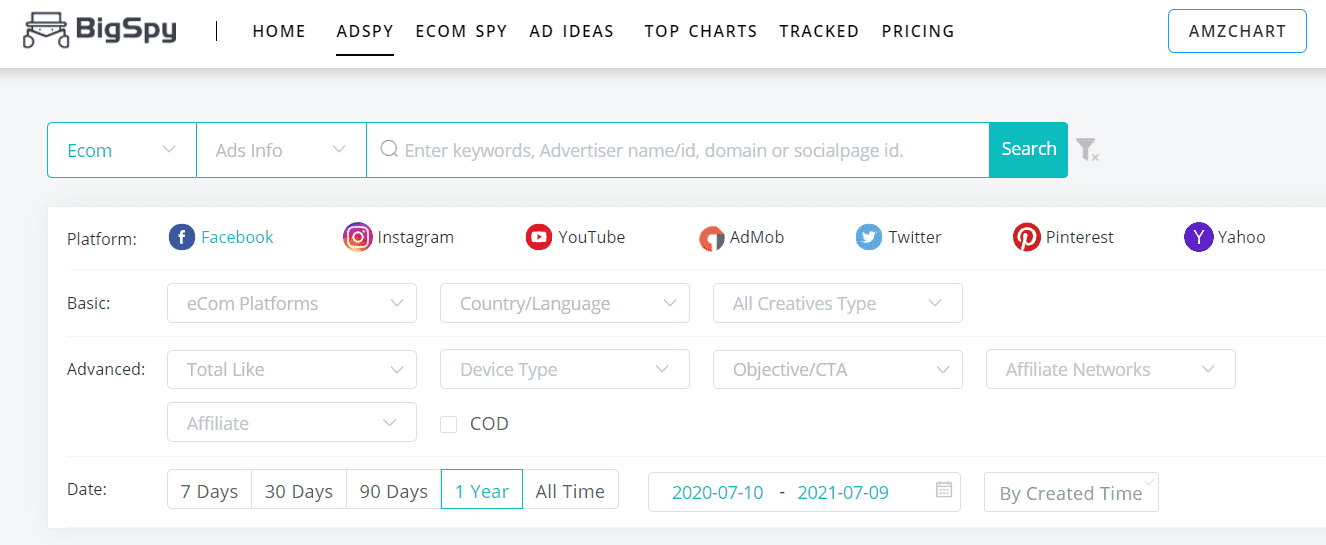 Even though BigSpy was created to monitor social media ads, this powerful spy software is way more than just that! BigSpy has a massive database that contains ads from social media networks around the world. BigSpy is not only a Facebook ad spy tool, but it's a highly qualified all-inclusive social media ads spy tool for many social media networks and channels where BigSpy grabs ads from, such as:
Facebook Ads
Youtube
Instagram Ads
Pinterest
Yahoo
Admob
Twitter
BigSpy also allows you to save the ads you like because it uses an encrypted database. With BigSpy, no one can ever steal or copy your information because everything is always in private mode! So what are you waiting for? BigSpy is what you need to get inspired today!
BigSpy can provide you with plenty of ideas so you can create your own profitable ad campaigns! Bigspy is powerful spy software that saves you time and increases your sales.
Is it worth the money?
Yes, BigSpy is definitely worth the investment if you are serious about making more sales for your business. You will find gems in this database that will help make a sale every time. Remember, all of these ads are proven winners who have worked in different niches around the world! Just because they already work for other businesses doesn't mean they won't work for yours.
Is BigSpy the best social media advertising?
BigSpy is statistical software that will track the stats from your ad if you begin marketing. It has a vast database to help find an array of marketing creatives to promote in E-Commerce. Additionally, it offers advertising analytics and you can check the performance of the ads. The tool was originally free of charge so it has a huge following and some influencers have recommended it. He began charging their consumers with the big upgrade of features and extended his service span. It's a good product even if it's a free tool or just paid product.
BigSpy has a huge amount of social advertising databases. It provides an impressive analysis of landing pages where you can track page visitors. They analyze ads from the best social networks to keep their ads at their best. Ad spying tools can be integrated with different platforms making it one of the best Internet market management systems available today. This software contains ads to 6+ prominent social. It always wants better results and more promising ones. It also stores top-level search filters. The information you obtain helps you to make one of the most profitable ads for your target audience.
BigSpy is an AdSpy Tool that can detect and intercept ads from many social media websites. The tool uses over 160 million ads data. The tool is designed to let advertisers use competing advertisers' advertising strategies so that they can successfully achieve what we've set. With Big Spy find hidden market opportunities for you to save time creating everything you need to, set campaign goals and more. Spying is not to swindle or to imitate. Learn from the competition create your own ideas which inspire you most and a similar strategy that worked for my competitors.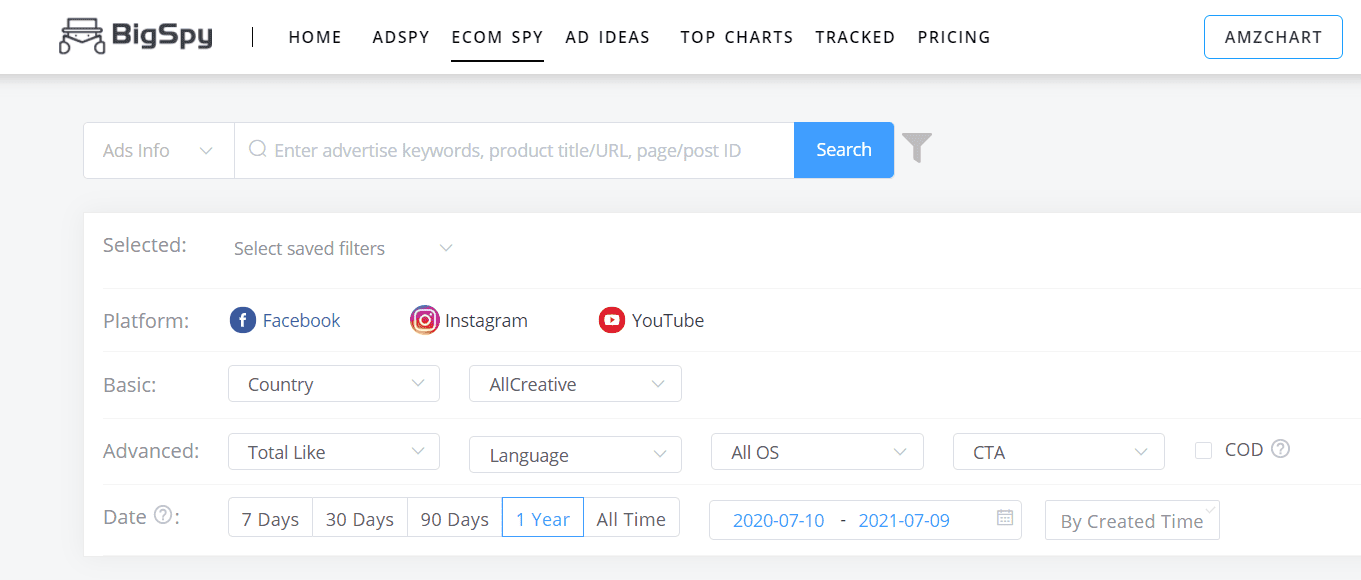 Pricing Plans Available
BigSpy is totally free as long as the program limits are not so great. Pricing starts from $9/month / month which jumps to $99/month with Pro or up to $399/month for Enterprise accounts. The. It is 100% free! You'll start with a FREE service in $0.
Features
Check creative inspirations from the daily updating database – BigSpy is the biggest database in the world and updates daily with advertisements that perform in almost any other country. Daily advertisements based on countries categories or languages are available for you. After clicking one of your advertisements i was given the specific structure of this advertisement and besides this, there was the option of saving and downloading an image. Find advertisement designs about advertisements about education which run in English for the past 30 days. After searching the results on Twitter for the current results I found thousands of ads to advertise learning. To check advertising creative I clicked on an account to find more than 44 ads.
Find Paid Ads Running By Affiliate Platforms – The company offers an option to select the affiliate markets. If it has an affiliate program you can check what offers are currently run by such affiliate brands. For this tutorial, I will find offers that run Clickbank and Maxbounty. I will find ads that promote the MaxBonty offers to Facebook or anyone other Facebook social platform and promote it. I can get this demographic infographic of this ad in detail structure so I can duplicate this ad on Facebook. It's pretty simple too.
Spy Dropshipping and eCommerce Ads – Facebook Ads and Instagram ads feature online retail and dropshipping. BigSpy helps you find winning ad revenues from advertisers running in Shopify or the eCommerce market. You'll be able to see your demographics details, the trending product in the sector's order history, information on winning tips and the new and possible competition.
Using search filters – The filter is the best useful compared to other features. BigSpy provides you a Facebook ad library that allows you to view any Facebook competitors' ad views and other trending ad views that run. All search results can be saved in under a minute using Bigspy. You'll save yourself sometime later.
Track competitor ads – BigSpy can assist you to capture and track these ads to analyze users' tests. Find out all of your competitor's A-B test results and see where you got the best results to apply the same tactics with the best creative ads. BigSy Users will see other people's tracked ads by tracking others and you will discover amazing insights of people tracked ads that fit YOUR niche industry and your promotion strategy. And spy the advertisements! The "Ad Ideas" option is exactly what you require just by clicking on the ad ideas.
Millions of ads ideas for your perfect ad texts – BigSpy will search and produce millions of real-time ads that will run on many social media sites and countries. To do this click on the tab Adspy and type in a topic or product search and click Enter. It can show a campaign with multiple ad ideas within ten seconds.
Understanding the Ad-creatives – The name of the page can be clicked and then the ad can be checked directly from the page where it is displayed and the interface for other social media channels can be found also. All other metrics display 'hit' same across bigspy advertising tools. Campaign creativity is interactive " meaning a button in the landing page's URL will automatically take you to. Then with the click. Out of the measurement, the displays of the various metrics are the same.
Gender, age, and location – BigSpy's graphs are easy to read that can also be used to preview or highlight the data you want. The best countries to focus within this case will be shown. BigSpy will show the best state to launch a targeted ad or for an industry niche. Data are based on the gender of origin and gender distribution of origin based upon gender and age. The graph was used to preview and emphasize the data also for checking the targeting age- groups of the advertisement.
BigSpy Top Charts – This feature locates top-performing ads and shows them for exact advertising run and industry ratings. Through using these graphs you can spy on competitors' ads and get those trending ads to copy or to make an identical ad with a few modifications. This ability is restricted to Elite plan – users of BigSpy; if you are running a media agency or making a minimum 4-figure profit daily for Affiliate Marketing you should test this plan.
Find out the demographics of targeting audiences – The targets and demographics are fairly easy to find with BigSpy. Just enter the product name/brand in the search. Enter an enter button. Then ads will appear then click on an advertisement and in the below section the screen will indicate an " Detailed Information ' The demographics of advertising is easy to find using a search engine. Facebook Demographics is an example.
Detail Ad-Insights – This is an aspect you shouldn't forget in gaining creative insight to advertise — to see more on display 'view more…' —, clicking on him will trigger the click of. Download the thumbnail/video on the ad. Click on its download button and you can see even more detailed insights and gain complete access.
Download ads materials for ads inspirations – BigSpy offers quick access by clicking to images videos and carousels of ads. You can take images from original quality without compressing ade quality. For reference, these advertisement images or you can utilize the same creative for this advertisement too. For this click on the ad and click on download.
The multi-platform ads search – BigSpy allows monitoring ads from the various social networks including Pinterest Instagram, Facebook AdMob Instagram, YouTube and more. Through this program, one can get ads in seven of the best social media platforms.
The creative power of BigSpy – BigSpy provides an abundance of creative options that you can use to build killer turning ads. It's the one element that gives you a leg up on the competition. The main idea is to rely on spy technology to make the most powerful ideas. It's simple reasons that the company gave you creative choices.
Buy Bigspy at affordable pricing from Toolsurf using Bigspy group buy for just $29 per month
Who should use Bigspy?
BigSpy is a software that allows you to analyze the statistics of social media campaigns. It also helps you track competitors who have recently launched an advertising campaign and are thriving in your niche market. BigSpy has become very useful for marketers, entrepreneurs, and small businesses because of its reliable and accurate information in helping them create the right kind of ad content that would make sales!
Which is better BigSpy or Adspy?
Adspy is restricted to Facebook and Instagram while Bigspy offers functional advertising on 6+ platform search channels. BigSpy is very economical in terms of pricing. AdSpy is actually an awesome tool just to advertise just in Facebook ads.
How many Ad Platforms does BigSpy cover?
BigSpy has six notable platforms: Facebook Instagram, Twitter Facebook Admob Yahoo and Pinterest.
Conclusions
BigSpy has an intuitive interface and design for social media marketing. It allows you to spy on winning ads by other companies in your niche market due to its advanced search and analytic tools, making Bigspy a very powerful tool for successful advertisement creation!
Reasons To Purchase BigSpy
The Spy Software capabilities of BigSpy are excellent for the following reasons:
It will change how I do business forever! BigSpy's keyword tracking is awesome! It gives me valuable insight into what people are searching for in my services or products. It used to take many hours to set up and launch a campaign, but with BigSpy I can create more content, launch more campaigns faster, it saves me time and money every week!! The spy tool capabilities are the best I've seen, and BigSpy makes it easy to understand how to use the spy tools! I have been using Google Analytics for a long time. Now, with BigSpy's spy tool features provide all of the same information but in an easier more efficient way.
DISCLAIMER: This is an unbiased review based on my personal opinion from using this product and do not represent or represrt affiliate advertising. Please do your own research before purchasing anything online or offline reviews help you avoid any scams or fraud products. If you have any questions feel free contact me.