Have you ever found yourself wondering if your content is the best it could be? Buzzsumo is a content research and marketing platform that can help. Buzzsumo SEO tools allow users to search for the most shared or liked content on the internet for any topic, giving them ideas on what to write about and how to promote their articles. It also gives users key influencers in their niche so they can reach out with ease. Buzzsumo has an array of services including Content Discovery, Alerts, Influencer & Outreach, Keyword Research, Social Monitoring and more!
Buzzsumo is the most comprehensive content research platform on the internet. It allows marketers to find the best content for their industry and helps them plan out their marketing strategy based on what people are interested in. Buzzsumo provides a wide range of services, including influencer outreach and data analytics tools. Buzzsumo SEO tools can be used by any marketer, blogger, or small business owner who wants to get ahead of their competition!
BuzzSumo is a cloud-based platform that enables you to identify the best content in your industry by examining popular, shared material. Buzzsumo can examine how things are trending on Twitter, Facebook and Google at any given moment.
BuzzSumo also provides a summary of the content that has driven most shares for other brands in your niche. Creating more content with these types of topics will help you create connections or increase sales conversions.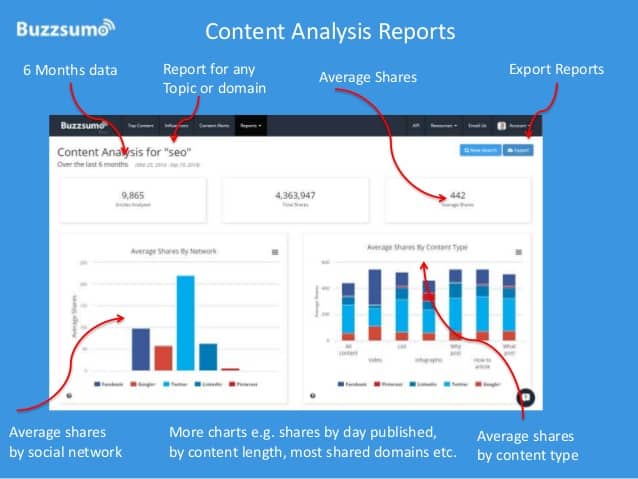 Features:
Content Discovery – BuzzSumo helps you discover what content is most successful for you and your brand.
Find content ideas – Spark content with BuzzSumo's topic calendar, trending stories and forums.
Find new keywords and topics with high demand to get ahead of your competition.
Cost per click Inform your PPC strategy with cost-based data.
See search trends to see if your keywords fluctuate seasonally or just because of popular topics.
BuzzSumo also helps identify content-relevant keywords, trends stories, customer questions and success rates.
2. Content Research – Create posts that will help increase your brand awareness. BuzzSumo analyses billions of articles and social media messages to provide insights on what content succeeds in the market.
Data-powered content for less work. BuzzSumo constantly crawls the web and social media to help you find the most popular content in your topic.
BuzzSumo indexed over 5 billion articles and optimized the data to power personalized discovery.
BuzzSumo provides an easy way to discover the best engagement and content opportunities. Filter by content type to see which formats resonate with your audience.
Monitor your competitor's content with our search function to find what they deem most important.
With 5 years of content performance data, you can compare what content has done well over time.
3. Find Influencers – Find influential voices on Instagram, Twitter and web platforms to help you discover the most engaging content.
BuzzSumo is here to change the way you measure success. We don't track meaningless data, only metrics that matter.
Millions of profiles await, to uncover the most effective influencers for her brand.
Understanding the strategies that your competitors are using will help you better analyze their success.
Discover who boosts your competitors by searching based on the content they share.
4. Monitoring – BuzzSumo monitors your competitors, industry trends, and brand mentions to give you advance warning of upcoming changes in the digital marketplace.
BuzzSumo keeps track of relevant keywords and alerts you when something important is happening.
Monitor mentions of your brand in real-time so that you can respond on the spot.
Stay up to date with the latest happenings in your industry and around the world.
BuzzSumo's monitoring features allow you to keep track of the other companies in your industry.
Products Learn what people are saying about the latest and emerging products in your category.
Also read: Renderforest Review 2021 – Best online branding tools for video creation?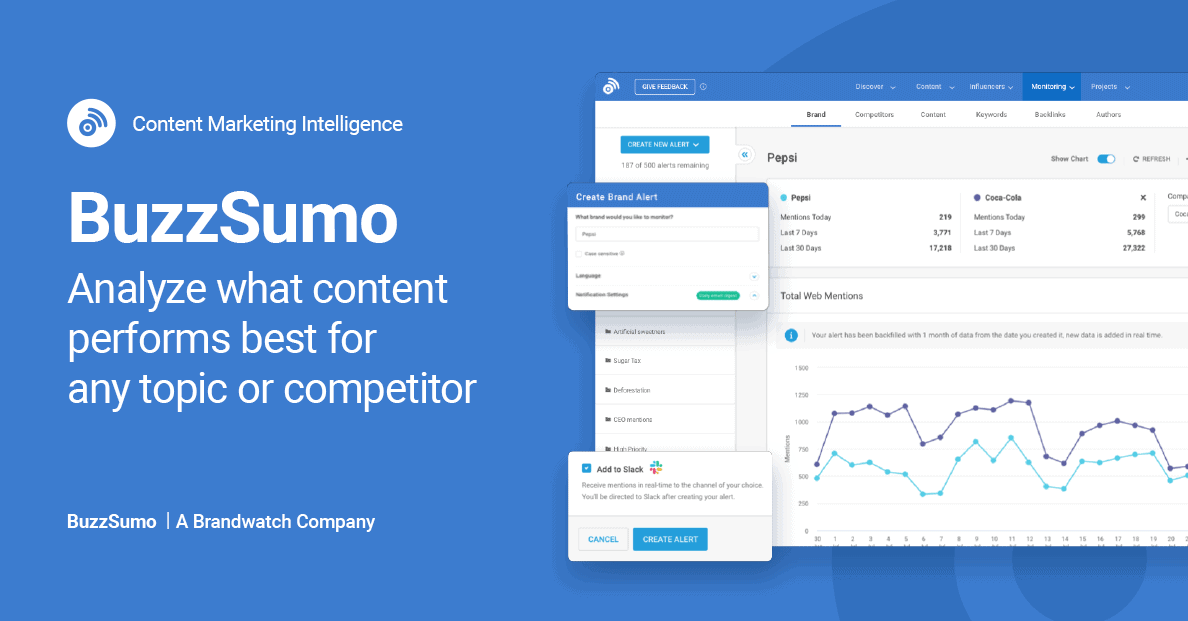 Conclusion
BuzzSumo is a must-have for any content marketer.
BuzzSumo has helped me stay on top of my competitors' latest strategies and tactics by monitoring their shares, creating alerts to notify me when they're getting traction, boosting them with our own share if it's relevant, and staying up to date in the industry through BuzzLabs.
Online marketing agencies can use Buzzsumo as an essential tool for understanding which content will resonate best with customers and how that translates into SEO rankings and customer conversions!
I've been able to better manage my time because I no longer have to waste precious hours searching for what people are talking about most online – now all the information comes right to me via BuzzSumo.
When it comes to beating competitors and increasing sales conversions, you need an edge. BuzzSumo can help by providing insights into which topics are driving the most shares for other brands in your niche so that you know what content is hot right now. With this knowledge, you can create more of these types of articles to increase website traffic or engage with influencers in a particular topic on social media.
If all this sounds good but you've never used BuzzSumo before, sign up for free today! You will be able to see how others have been using our platform and get started building your own success story as well. If you want an edge over competitors when it comes to making new connections or increasing sales conversions, BuzzSumo is a great tool for finding the most shared content in your industry. Perhaps some of these articles can offer insights into what topics are driving share among other brands in your niche? This will help you create more of these types of pieces that may also increase traffic on your website.
Buzzsumo: What is it?
A quick guide to Buzzsumo – one of the most useful tools for content marketers.
Buzzsumo Review: What is it all about?
As someone who is still relatively new to the world of digital marketing, getting to grips with the various tools available has taken some time.
What is Buzzsumo?
Buzzsumo is a platform that allows you to find engaging pieces of content and discover new potential outreach opportunities.
How do I find Twitter influencers?
Buzzsumo's influencer tool will find the key Twitter influencers in your industry by searching for topics, domains or usernames.
What is the most useful tool on Buzzsumo?
The content research tool allows you to trawl through millions of pieces of content to find the most popular.
What content can I find?
Simply search for any topic or domain and it will return the most shared pieces of content on that area from the past year.
What are the tools available on Buzzsumo?
The final set of tools available on Buzzsumo allow for monitoring reports to be set up for a variety of different categories, including brand mentions (for both you and for your competitors), keyword mentions, backlinks to a domain and any content created by a specific website or author.
How does it work?
Once you have set up what you want to monitor, all the information is displayed in a graph covering the last week, two weeks, month, three months or six months, including the total number of mentions that topic has received that day, week or over the past 30 days.
How to get Buzzsumo at an affordable price?
Buy Buzzsumo at affordable pricing from Toolsurf using Buzzsumo group buy for just $3 per month