Use OFFEO to turn any boring video into a professional looking one in just a few clicks! Choose from hundreds of templates, edit text and upload your images or clips and get your final render instantly.
Video content is in trend these days. It is everywhere, and it helps companies earn more money. This strategy can be considered as one of the most successful strategies, as companies can market their products to a global audience. For video content creation, platforms like Youtube and other digital platforms and OTTs provide the maximum output. But, is the creation of videos an easy task? No, because the internet provides a lot of opportunities for imagination. There are many people out there, who try to take advantage of the resources.
So, if you want to face off against your competitors and come out on top, then you need a special kind of competitive advantage. That means you need to start off right by choosing the best video editing tool to suit your needs.
What is OFFEO?
OFFEO is a specially designed online tool that allows you to create interesting and attractive videos for online marketing purposes. It is an application that can generate a video instantly, and in a short amount of time. The OFFEO app is specifically designed for agencies and marketers who want to create the perfect video for their product. The OFFEO development team says that the app will direct you to create the video you need. It is very easy to use, and does not require any special skills.
Features Of The OFFEO Video Editing Tool
The key features of the OFFEO video editing tool, This incredible online video maker that comes with a bunch of features, including the most user-friendly specs, is a great tool to create any form of attractive digital content that you want to share, publish or present.OFFEO includes many cool features.
Thousands of Designs: In the template-ready designs, there are more than 1000 instant designs available for use as models for the upcoming projects. This feature is regarded to be one of this tool's main selling points as it allows the user to use thousands of designs produced using the same image.
Tool that enables the user to create their own branding designs and themes. It also allows the client to create their own websites and content that will always be current. This tool also improves your social presence and makes your client more loyal to your brand.
The animation tool allows you to create professional videos without any separate design or technical skills.
This online web video also provides simplified version translation of various common languages, which will help promote your business in a broader market and also lets you understand the requirement of different region customers.
Brand Animation: Using the best online video platform for brand animation is the key to your success. A plethora of platform users are looking forward to experiencing the best online brand animation tool. So, undoubtedly, it will help you create brand value.
Full Creative Control: Offeo gives full creative control to the professionals to get them what they like in their respective video.
Timeline Control: With this amazing interactive design tool, you will also find a full timeline control attribute, which helps you get your animation design exactly the way you want it.
There are a large variety of templates for most of the time-specific situations in the market for you to customize them to be used just for your online marketing needs and objectives.
Also, Offeo has 9.5K+ pre-animated vector elements. So, it can help you get all the advantages of creative video creation without any hassle.
1000 music library: Create unique and optimized videos. Includes more than 1000 music libraries.
Another unique feature you'll get from this online animation creator is the option to remove the background image from your videos without the hassle. Delete image background is a feature built right into the tool!
Free Tutorials: Learn new tricks from professional animators through free video tutorials.
Integrated with all major social media platforms
Providing immediate communication with live support
Working with your team
Adjusting audio settings
Selling your products on an external platform
Import a Photoshop file or PowerPoint file
Content planner
Resizing an image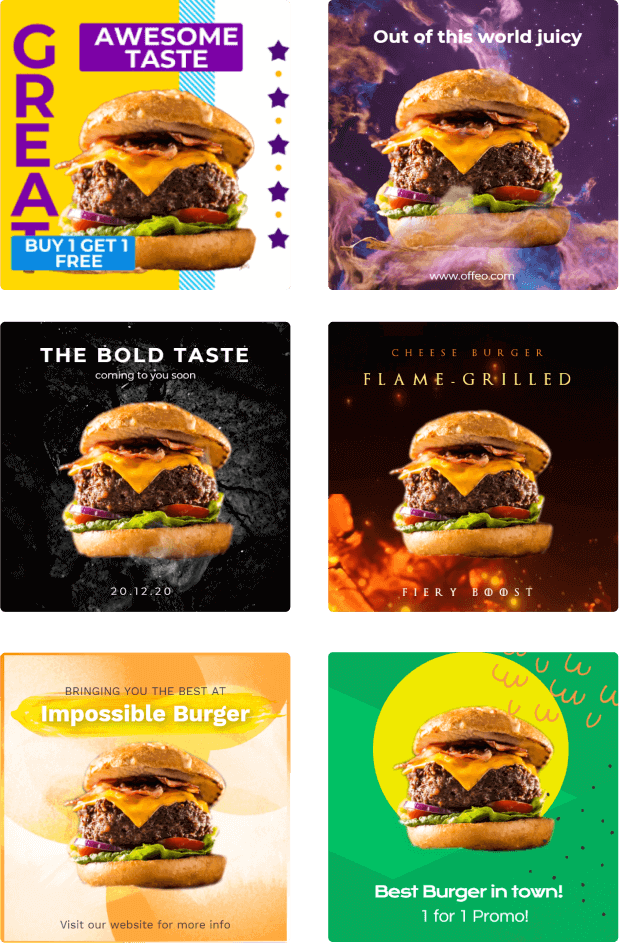 What you'll get to learn
Improve the quality and relevance of your video advertising with OFFEO, the motion graphics platform that integrates seamlessly into your workflow. You can create professional-quality video ads without any prior experience with motion graphics or design.
Just by clicking on a button, you can get access to some amazing OFFEO ready-made video ads and Motion graphics templates that can be personalized to suit your brand and can then be used to achieve the desired impact.
Create professional videos fast with OFFEO!
Incorporate awesome video and audio effects such as fire, smoke, lens flares, shock waves, energy, explosions, and more!
Export your mp4, mov, png and/or jpg advertisement video
Add a soundtrack to your Elements video advert
Use the cool OFFEO Filter and take perfect photos and videos
Several advantages over traditional video editing tools
The OFFEO Videomaker allows users to set up a unique online video creation platform, and also be self-employed. In this unique video editing tool, there are only a few unique techniques.
OFFEO Tool is designed to work most on popular online platforms such as Facebook and Instagram. Most social media formats such as vertical, square, and landscape formats are supported by the OFFEO Tool.
It can be used by any company for interactive content with complete control of every aspect of animations and design.
The instant background remover can make your images beautiful with just one click.
This tool also enables a controller in which you can enter and exit the timeline with a single click!
The library of brushes watercolour texture with animated icons automatically updated with the trend.
OFFEO is the world's leading ON demand language translation and video editor. OFFEO is available 20+ languages.
Who is the video editor tool for?
As already mentioned before, OFFEO is a high quality home-video making machine, and also a video creation tool for wide range of personalized purposes. Also, the OFFEO tool is very useful for a wide range of people who are not professional videographers.
Social Media Marketing: People who work in it, that isn't an only a job but a passion. They need to focus more on developing skills on the Instagram, Facebook, LinkedIn, YouTube, and more. OFFEO is a useful tool for giving your video promotions or other visual content, like a collage, retouch, stickers, and more.
Although marketing agencies most often work with multiple clients, they can provide many businesses with animated video content. These videos could include short explainer videos, how-to instructional videos, brand promotion, event announcements, video testimonials, and more.
Graphic Designers: The application is designed in such a way that it allows graphic designers to utilize their creativity to the fullest. They can turn their ideas and designs into eye-catching, fully functioning websites in a matter of minutes.
Positive and negative characteristics of OFFEO video editing tool
Advantages
Easy to understand, suitable for beginners
Cloud based access
We give you exclusive behind-the-scenes information, tips, and answers regarding Offeo, video making, and implementation and marketing of video in the Offeo Community.
This online program gives you the best price/value ratio.
You can easily contact YouTube studio by live chat or email whenever you need a help with your video production.
You can turn one click into a animated sequence.
Each document within your design can be quickly customized to reflect your brand
Storage space for large files
Video production platform without downloads or installations
Design is no issue here, create a beautiful one-pager yourself in no time and without any skills
Disadvantages
The trick to creating good content is to make it powerful enough for your audience to consume in less than 3 minutes.
No voiceover
No mobile version
You can buy Offeo group buy at just $1 per day trial or $5 per month from Toolsurf
Buy Offeo Now just $1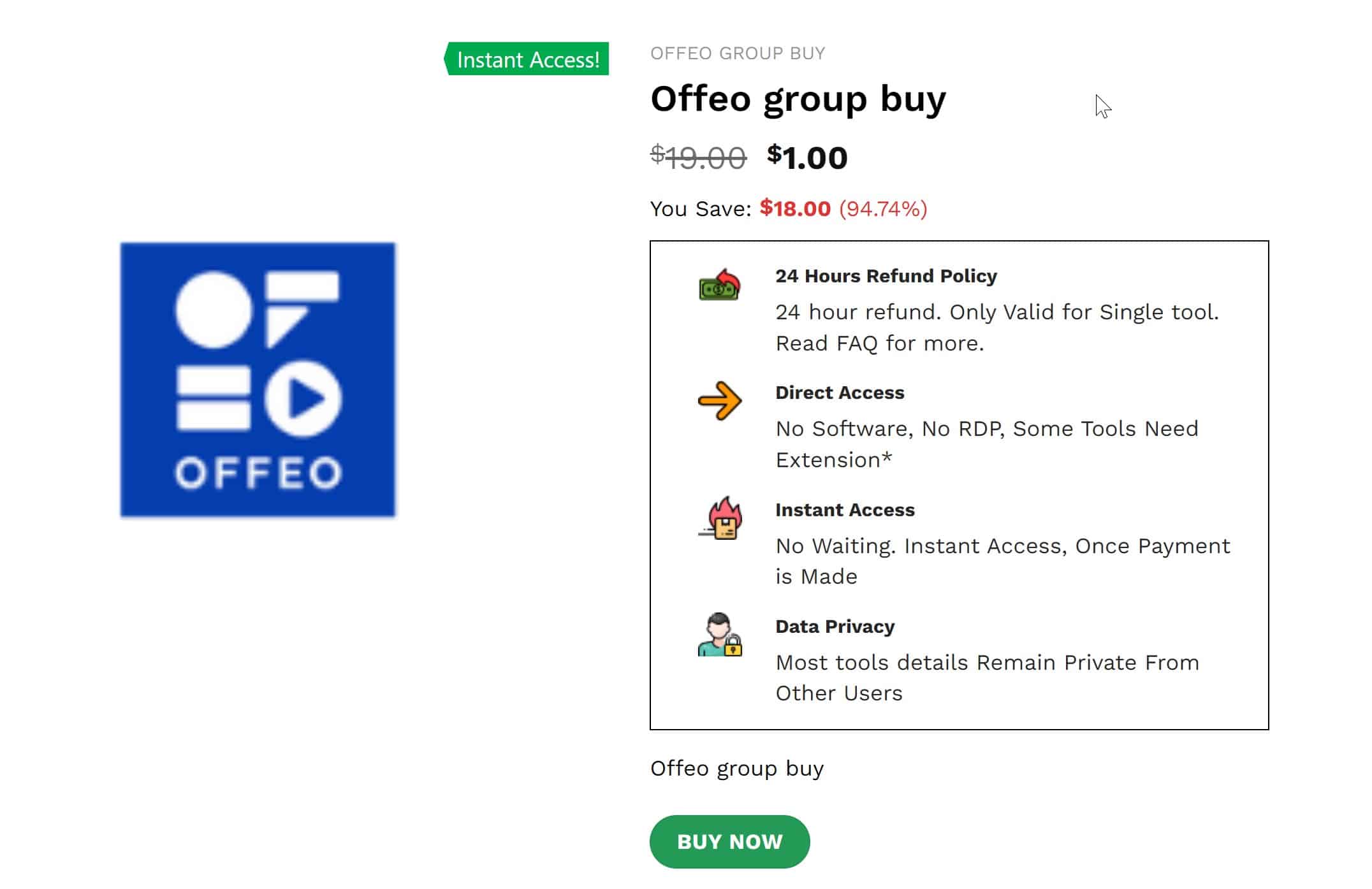 Buy Offeo Now just $1
Is OFFEO worth purchasing?
If you are looking to start your own successful online video production or freelancing business and are wondering how to do so, the OFFEO platform can help you with that. The OFFEO system allows you to work from anywhere, as it requires no office, no power, and no internet. The OFFEO Lifetime Contract is a very unique and special promise, assuring you of continuous resources and support in your company and your career. The OFFEO Video Creator is recommended for anyone involved in the creation or promotion of videos, and many users have already obtained their benefits.