If you're new to the design world and you want to create something simple, or you don't have time for complicated tools or something that will suit your needs – Canva is your choice! You can use it for your social media presence and website design.
Canva is free on the web, but there are some limitations: even though they say that there are no limitations but if you want to get rid of them simply select "Canva Free" on their homepage.
Canva is an amazing tool for designing your own work. People who aren't experienced in design can get pretty far with Canva. They have templates for all sorts of projects, like flyers, infographics, logos, posters, invitations, t-shirts, and even websites!
Canva is an amazing resource for those who aren't skilled in graphic design but still need to design great-looking material for everyday use. It has thousands of templates for all types of jobs and purposes! From editable PSDs to simple vectors, there is something for everyone.
It has a number of editing features that allow you to create high-quality graphics that can be printed. Not all templates are print-ready, but many are.
Canva is free for personal use! You can make amazing-looking designs with Canva without paying anything!
It has a mobile app and desktop app – you can design anywhere at any time. There is even an app for Mac!
This program allows you to share your designs with anyone who has an email address. It's a completely free way to share your work with others.
The Canva community is extremely active and helpful.

What is Canva?
Canva is an online graphic design tool that makes it easy to create great designs for any purpose.
You can use Canva to create:
Templates for Flyers, Websites, Infographics, Posters and Cards
Personalized social media posts
Customized business cards, save the dates or invitations
Mobile application icons
Business brandings like logos or brand guidelines
Since launching in 2013 Canva has grown from a side project into a huge global community of designers with over 10 million users. Canva is quickly becoming the standard tool in education for learning web design and graphic design.
Who is Canva best suited for?
Canva is best for any level of graphic design.
Canva is best for:
Anyone who wants to make a design looks great but doesn't have graphic design skills but needs to create something that looks good online or in print.
Anyone who wants to quickly create vector designs without having to learn complex software used by designers and companies.
Anyone who doesn't want to spend hours learning a complicated system but still wants to produce professional-looking work!
Anyone who is looking for a place can do their work from any device or platform.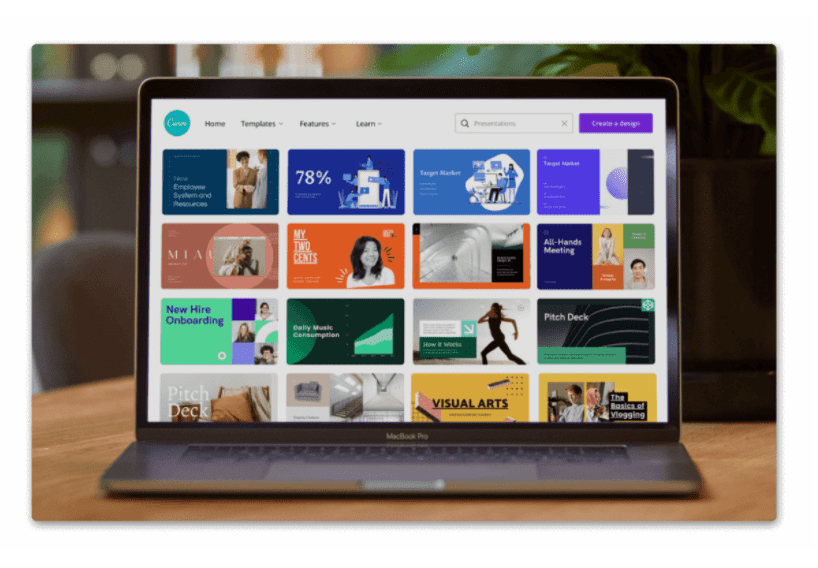 How long does it take to create a design?
It depends on your skill level! It takes anywhere from 30 seconds to 2 minutes, but it usually averages 1 minute. We have been overwhelmed with the number of people who have used the tool without knowing anything about graphic design and they have been able to create beautiful work!
Also read: Renderforest Review 2021 Is It Worth the Price?
What is the purpose of using it?
This tool is used to create graphics for websites, social media, e-mail campaigns, presentations, and infographics.
Canva's Top Features –
Access 75+ million photos and videos and 420,000+ templates with the Canva Pro. Create beautiful, professional, Facebook-ready images.
Photo effects to improve photos. – With Canva, you can turn photos into clickable shareable to build your social media presence. Plus, you can add text and graphics that fold out from the image.
Powerful photo editing tools – Canva allows you to edit images, tweak your photos and put them together with different elements and backgrounds. Its 5 simple editing tools help you create beautiful backdrops for simple or sophisticated pictures.
Access to icons, shapes, and stickers – In addition to a variety of images, the app lets you add shapes, custom icons, and collections of stickers, which are available for free or in-app purchases.
Font library – The app features a library of 200+ fonts, making it simple to customize every word on your iPhone.
Text expansion service – Textexpander is a free utility that lets users create snippets of text that are expanded at the insertion point by pressing the home key.
Drag-and-drop editor – The app's drag-and-drop editor allows you to layer images, videos, text boxes and more. It even lets you scale objects and use templates for various graphic projects.
Blend tool – The blend tool is intended to make photos look like paintings.
Video and audio files – You can upload videos and audio files, which makes it easier to create professional-looking marketing materials.
Animate images – You can animate images, which make it easier to create a short video that conveys your message and tells your story.
Collage tool – The app features a collage tool that allows you to put together multiple photos and images into one graphic.
Publish to social media or schedule posts – You can publish graphics with ease to social media sites like Instagram, Pinterest, Twitter and Facebook.
Add a watermark – To protect your designs from being used wrong, you can add a watermark to images so that they can only be used with your permission.
Content planner – You can use the Content Planner to include photos from SlideShare presentations, product pages and other media.
Brand Kit – The app features a brand kit that allows you to easily create custom graphics and logos for your business, which you can either save as .ai files or upload in full size.
End-to-end brand management – If you work with other designers at your agency, you can collaborate on shared projects.
Dynamic Image Resizing – Use a dynamic image size to resize images automatically if they are uploaded in an incorrect format or dimensions.
Custom Branding – Create custom branded buttons and icons for your social media accounts and website.
Granular Access Control – Control who has permission to access your projects and how much adjustment they can make.
Excel export – Export your data as Excel files or PDFs by simply clicking a button.
In-app Knowledge Base – Access detailed instructions on how to use each feature and troubleshooting articles.
Cons of Canva –
You cannot create unique elements (i.e. logos). This means you cannot create unique graphics for your brand.
Photos and templates appear generic. When the photos are photos you can find on Google, and all the templates are similar, it's hard to be creative.
It takes some time to learn how to use the tool and can be complicated for a beginner.
Hard to use on small screens. The tool is very user-friendly in desktop, but it is not responsive in the mobile version
How to buy Canva at affordable pricing –
Get Canva group buy at affordable pricing from Toolsurf starting at just $3 per month
Final verdict of Canva –
This online tool can help you create beautiful and professional designs for any social media post, web page, and more. Canva's design elements are easy to use, and it is simple to edit a background or text. The video editing features also make good-looking videos that may go viral.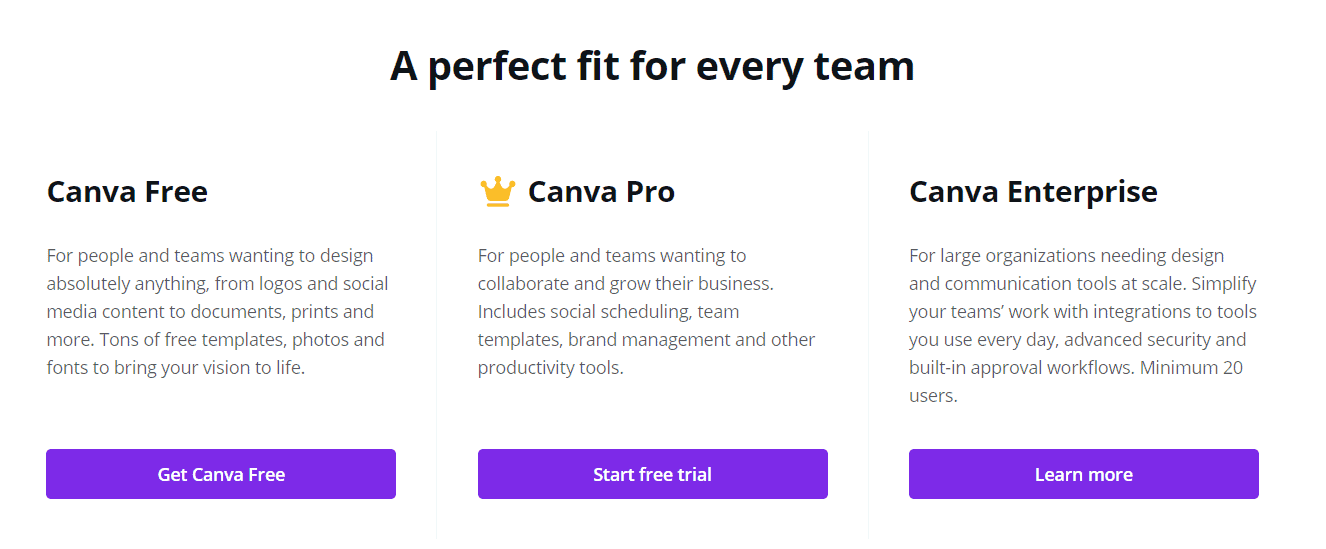 The service is free for individuals or teams up to 10 users. After that, the team will be charged $19 per user per year (or $29 with an annual subscription) or $4.99 every time a user signs up (or $7.99 if you sign up individually). According to its founders, this provides flexible pricing and gives users access to all of Canva's premium features for free.
If you want to create something with some specific design elements and you can't do it – there is no need to worry about it. You have two options where there are elements that will suit for your project: Canva App or Canva Editor. Both have a huge amount of different images, fonts, video clips and more which will suit for your needs!
Canva for Websites – If you don't want to pay for the Pro version of the tool just select "Canva Free" on their homepage .

Canva for Business – Canva for Business is a separate package which includes all the features of the free and Pro versions, plus additional features that are available only to the Business subscribers. As a Canva for Business subscriber, you will gain access to all of Canva's premium features, including:
In conclusion, if we would evaluate the tool in our own words we would say that Canva is an online tool that has a huge amount of elements, designs, effects where you can choose from if you want to create something related to business.
In addition to the Canva App, Canva Studio is a Chrome-based application that allows users to more easily create and edit content using Canva's library of graphics and templates. Features include copy-pasting, visual zoom, layer editing, color picker (for selecting background colors), color grading, font picker (for selecting fonts), parallax scrolling gallery options and even automated Instagram uploads.
Canva for Websites is a free extension for Android that allows Canva users to use their mobile device as a canvas with four preset dimensions. Custom templates can only be used in desktop mode.
Canva offers a free version of its service, with some limitations. In addition to Canva's core features, Google Drive integration is included. Other apps can use Canva's library of graphics and templates to create web pages or presentations.
Canva for Business is a free application that allows users to create colorful business presentations and images. Users can use image editing tools including text, shape and crop toolbars to create graphics that are then saved in the project library. The application is also available for macOS, Android and iOS.
Overall Canva is an excellent online graphic design tool.
Frequently asked questions:
How much does it cost?
There are three plans: Free, Pro ($9.95 per user per month, billed yearly), and Enterprise ($30 per user per month, billed yearly).
What is the best plan for you?
If you create more images for yourself or your clients, the Pro plan will suit you better.
Who should use it?
Canva is best suited for small business owners, online entrepreneurs, and marketers who want to design things quickly.
What effects can I add to photos?
These will let you flip photos, crop them, add filters and adjust brightness, contrast, saturation, tint, blur, etc.
What effects can I add?
There's also an effects tab that lets you add effects such as Duotone, Background Remover, Liquify, and more.
What are the Elements tabs?
Canva has an Elements tab to find icons, shapes, stickers, charts, grids, gradients, and more.
How do I find templates?
Canva will automatically find templates based on the design type you selected.
How do I find photos?
To find photos, click the Photos tab and choose photos in a similar way to the filters.
What is Pixlr X?
Do not confuse Canva with a full-fledged online or browser-based photo editing tool.
Is a graphic designer needed?
Not everyone is a graphic designer.
What is the free-tier plan?
Yes, there are many tools that you cannot use with the free-tier plan, but whatever you have with the free option is good enough to let you get your hands dirty with designing!
How long does it take to make a video?
If you are wondering what you can make using a free version, here is a small 10-second MP4 clip that I made a long time back using Canva free version in less than 30 seconds.
Is it worth the money?
Whether you opt for the free plan or a paid plan, Canva is worth your time and money.
What types of designs can I create with it?
You can create various types of designs that include logos, Instagram posts, Facebook posts, videos, invitations, infographics, etc.
What is the best way to resize and creative designs?
You can resize and creative designs whenever you want with a simple click (available only for the pro or premium users).
What is the drag-and-drop functionality?
For those who are not comfortable with drag-and-drop functionality, it can become a bit clumsy, but not so clumsy like Wix Website Builder that frustration sets in.
What are the features of Pro Graphic Design?
Only Canva Pro users have access to some basic graphic designing features like alpha transparency for PGN images.
Can I add team members?
You can add members, but they cannot work from the inside (that is, simultaneous working is not allowed).
How do I remove the background from a photo in?
Removing the background from a photo in Canva is easy, however, you must be a Canva Pro member.
How much does it cost?
Canva Pro costs $12.95 per month, per "team member" (person).
What is the number of users?
As of 2020, Canva had more than 30 million monthly active users.
How many templates does it have?
The "free forever" features include more than 250,000 templates, over 100 design types (social media posts, presentations, letters, and more), and hundreds of thousands of photos, font styles, and graphics.
Can I design my own products?
In some cases, you can save money by making your own personalized versions of products you'd normally have to buy.
What is the design process?
Canva's design process is the same across the type of content you create, so if you can make a basic social media post, you'll be able to go on to create more advanced designs, such as presentations, brochures, or business cards.
How do I create a social media post?
We're going to take you through how to create a basic social media post using a simple Canva template so you can see all these elements edited and changed from the template to the finished product.
How do I find the templates?
From the home page, hover over the "Templates" menu and a window will pop up with popular options.
What kind of greeting cards can you make?
Canva offers free templates, many of which are genuinely lovely, for all kinds of greeting cards, postcards, save-the-date notices, invitations, announcements, to create fun "tickets" for events, and to make photo books to remember an event or occasion.
What is the difference between a free and paid account?
Obviously, paying to use Canva Pro will get you even more functionality.
What is going on with the Pro version?
Going "Pro" allows you to create a "Brand Kit" to upload your own fonts, brand color palette, and logos to use across the entire Canva platform.